Piano CDs
Available in 4 separate volumes of 25 assorted hymns in your choice of high or low key registers. These 100 hymns are from a perfectly tuned piano played by a church accompanist and recorded to capture the best quality sound possible for leading singing. We are rerecording all 300 hymns which were in our discontinued 2005 edition (still some left by the way). More volumes are coming in 2019. Each CD case displays the tracks, titles and keys printed on the back for easy track selection.
1. View titles and play SAMPLES (High Keys, Low Keys) below.
2. Scroll to the bottom and choose an item to add to cart.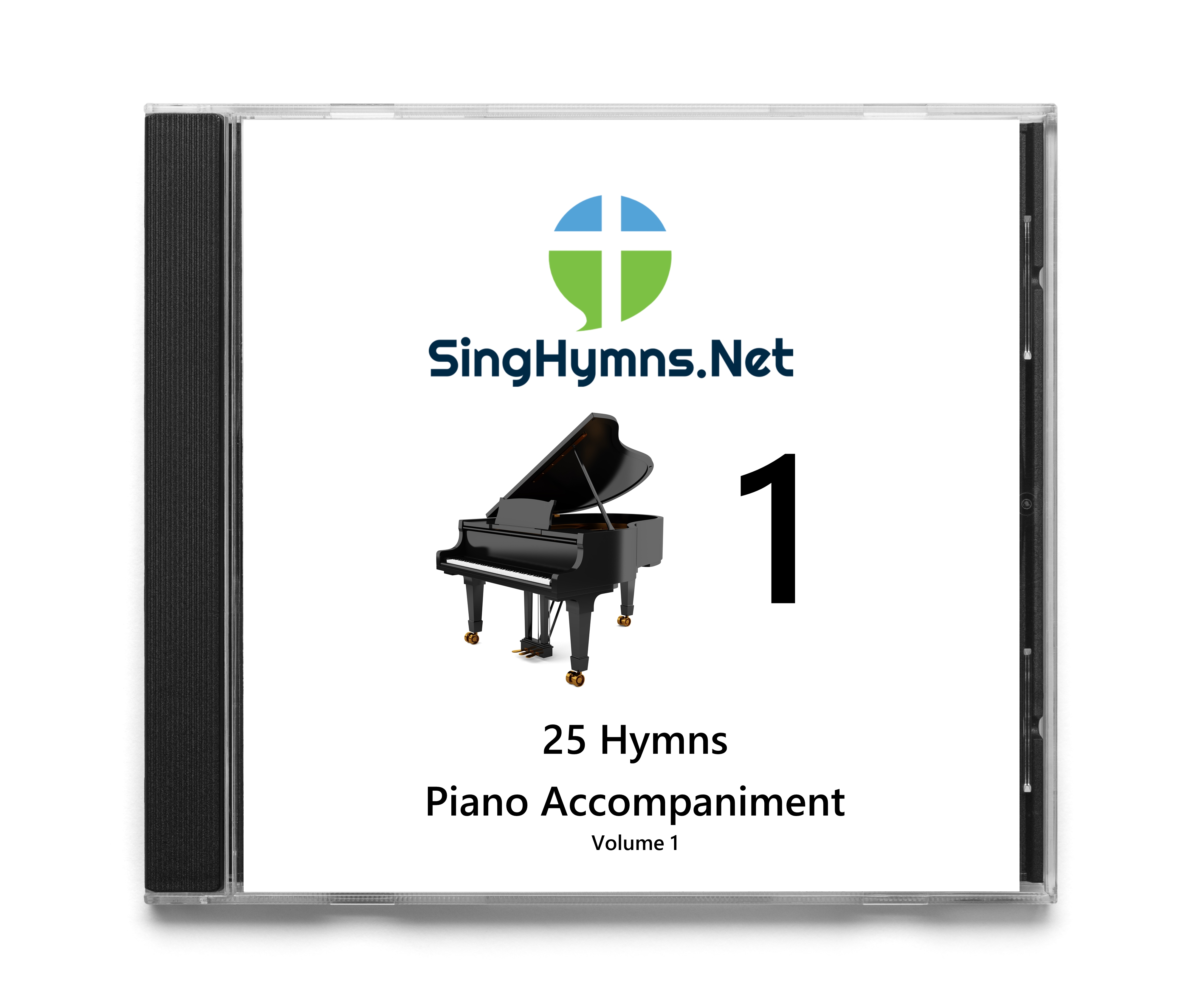 25 Hymns Vol 1 2018 Ed. Piano CD
A Mighty Fortress Is Our God
, 4 VersesHigh Key C
(SAMPLE)
Low Key G
(SAMPLE)
Amazing Grace
, 4G
(SAMPLE)
D
(SAMPLE)
And Can It Be
, 4G
(SAMPLE)
D
(SAMPLE)
Be Still My Soul
, 3F
(SAMPLE)
Bb
(SAMPLE)
Because He Lives
, 3Ab
(SAMPLE)
Eb(
SAMPLE)
Blessed Redeemer
, 3D
(SAMPLE)
A
(SAMPLE)
Blest Be the Tie that Binds
, 4F
(SAMPLE)
C
(SAMPLE)
Come Thou Fount
, 3D
(SAMPLE)
A
(SAMPLE)
Crown Him With Many Crowns
, 4Eb
(SAMPLE)
Bb
(SAMPLE)
For the Beauty of the Earth
, 4Ab
(SAMPLE)
Eb
(SAMPLE)
Glory Be to the Father
, 1D
(SAMPLE)
A
(SAMPLE)
Grace Greater Than Our Sin
, 4G
(SAMPLE)
D
(SAMPLE)
Great Is Thy Faithfulness
, 3D
(SAMPLE)
A
(SAMPLE)
Have Thine Own Way Lord
, 3Eb
(SAMPLE)
Bb
(SAMPLE)
His Eye Is On the Sparrow
, 3C
(SAMPLE)
G
(SAMPLE)
How Great Thou Art
, 4Bb
(SAMPLE)
F
(SAMPLE)
My Jesus I Love Thee
, 4F
(SAMPLE)
C
(SAMPLE)
Oh How I Love Jesus
, 3G
(SAMPLE)
C
(SAMPLE)
(Doxology)

Praise God From Whom
...,1G
(SAMPLE)
D
(SAMPLE)
Praise to the Lord, the Almighty
, 3G
(SAMPLE)
D
(SAMPLE)
Savior Like a Shepherd Lead Us
, 4D
(SAMPLE)
A
(SAMPLE)
Take My Life and Let It Be
, 3F
(SAMPLE)
C
(SAMPLE)
(On Christ)
The Solid Rock
, 4F
(SAMPLE)
C
(SAMPLE)
Victory In Jesus
, 3G
(SAMPLE)
D
(SAMPLE)
What a Friend We Have in Jesus
, 3F
(SAMPLE)
C
(SAMPLE)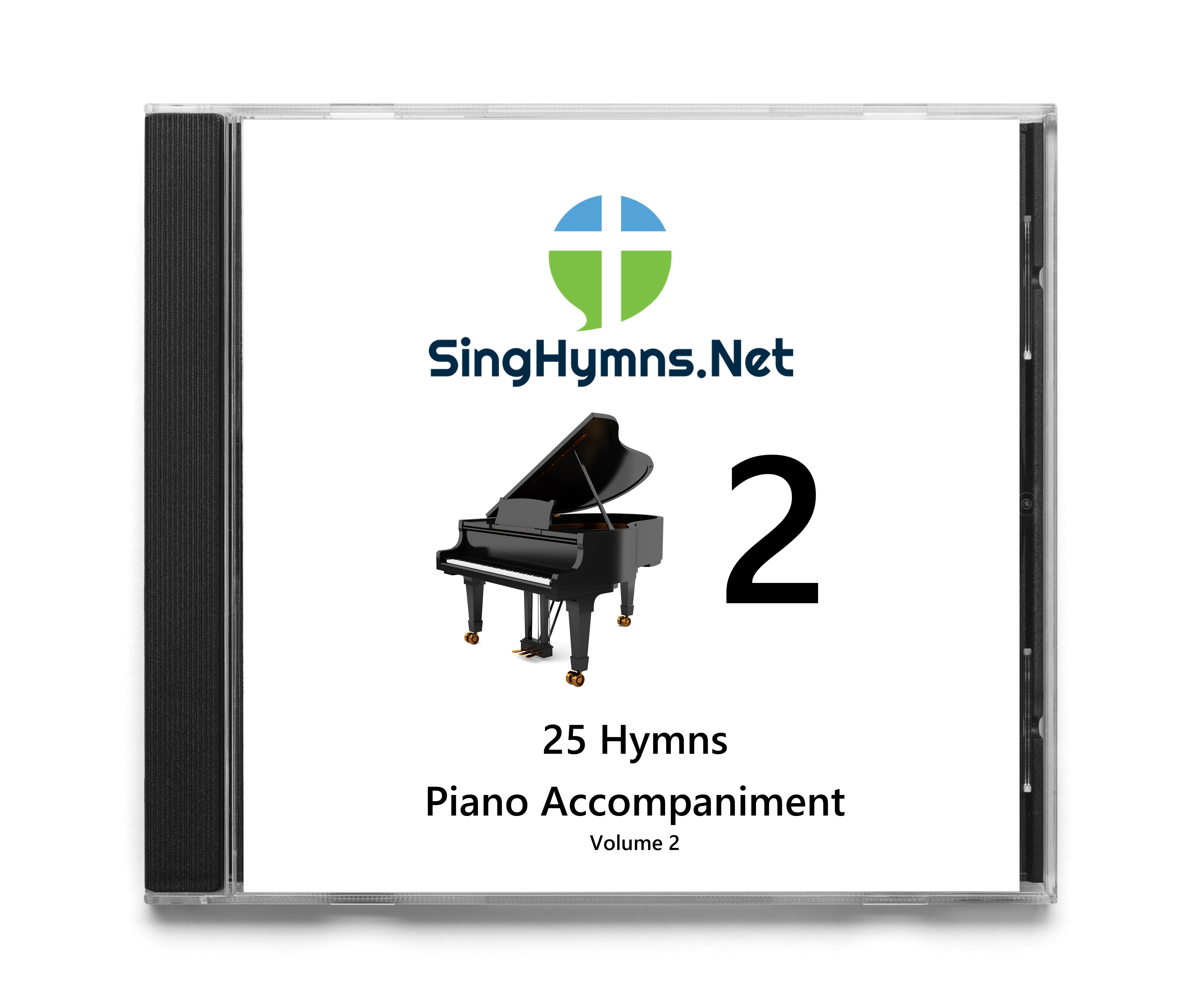 25 Hymns Vol 2 2018 Ed. Piano CD
All Creatures of Our God and King
, 5 VersesHigh Key Eb
(SAMPLE)
Low Key Bb
(SAMPLE)
Alleluia Sing to Jesus
, 3Ab
(SAMPLE)
Eb
(SAMPLE)
Bind Us Together
, 1F
(SAMPLE)
C
(SAMPLE)
Blessed Assurance
, 3D
(SAMPLE)
A
(SAMPLE)
Bring Them In
, 3Ab
(SAMPLE)
Eb
(SAMPLE)
Christ Whose Glory Fills the Skies
, 3F
(SAMPLE)
C
(SAMPLE)
Come Thou Almighty King
, 3G
(SAMPLE)
D
(SAMPLE)
Day By Day
, 3Eb
(SAMPLE)
Bb
(SAMPLE
)
Fairest Lord Jesus
, 4Eb
(SAMPLE)
Bb
(SAMPLE)
Give Me Thy Heart
, 3F
(SAMPLE)
C
(SAMPLE)
God Will Take Care of You
, 4Bb
(SAMPLE)
F
(SAMPLE)
Hallelujah What a Savior
, 5Bb
(SAMPLE)
F
(SAMPLE)
He Hideth My Soul
, 4D
(SAMPLE)
A
(SAMPLE)
I Have Decided to Follow Jesus
, 5C
(SAMPLE)
G
(SAMPLE)
I Need Thee Every Hour
, 4G(
SAMPLE)
D
(SAMPLE)
I Surrender All,
4Db
(SAMPLE)
Ab
(SAMPLE)
Jesus is Calling
, 4Bb
(SAMPLE)
F
(SAMPLE)
Jesus the Very Thought of Thee
, 4G
(SAMPLE)
D
(SAMPLE)
Just As I Am
, 4Db
(SAMPLE)
Ab
(SAMPLE)
Let Us Break Bread Together
, 3Eb
(SAMPLE)
Bb
(SAMPLE)
Lord Dismiss Us With Thy Blessing
, 3Eb
(SAMPLE)
Bb
(SAMPLE)
Love Lifted Me
, 3Bb
(SAMPLE)
F
(SAMPLE)
My Savior First of All
, 4G
(SAMPLE)
D
(SAMPLE)
The Lord Bless You and Keep You
, 1C
(SAMPLE
) G
(SAMPLE)
When I Survey the Wondrous Cross
, 4F
(SAMPLE)
C
(SAMPLE)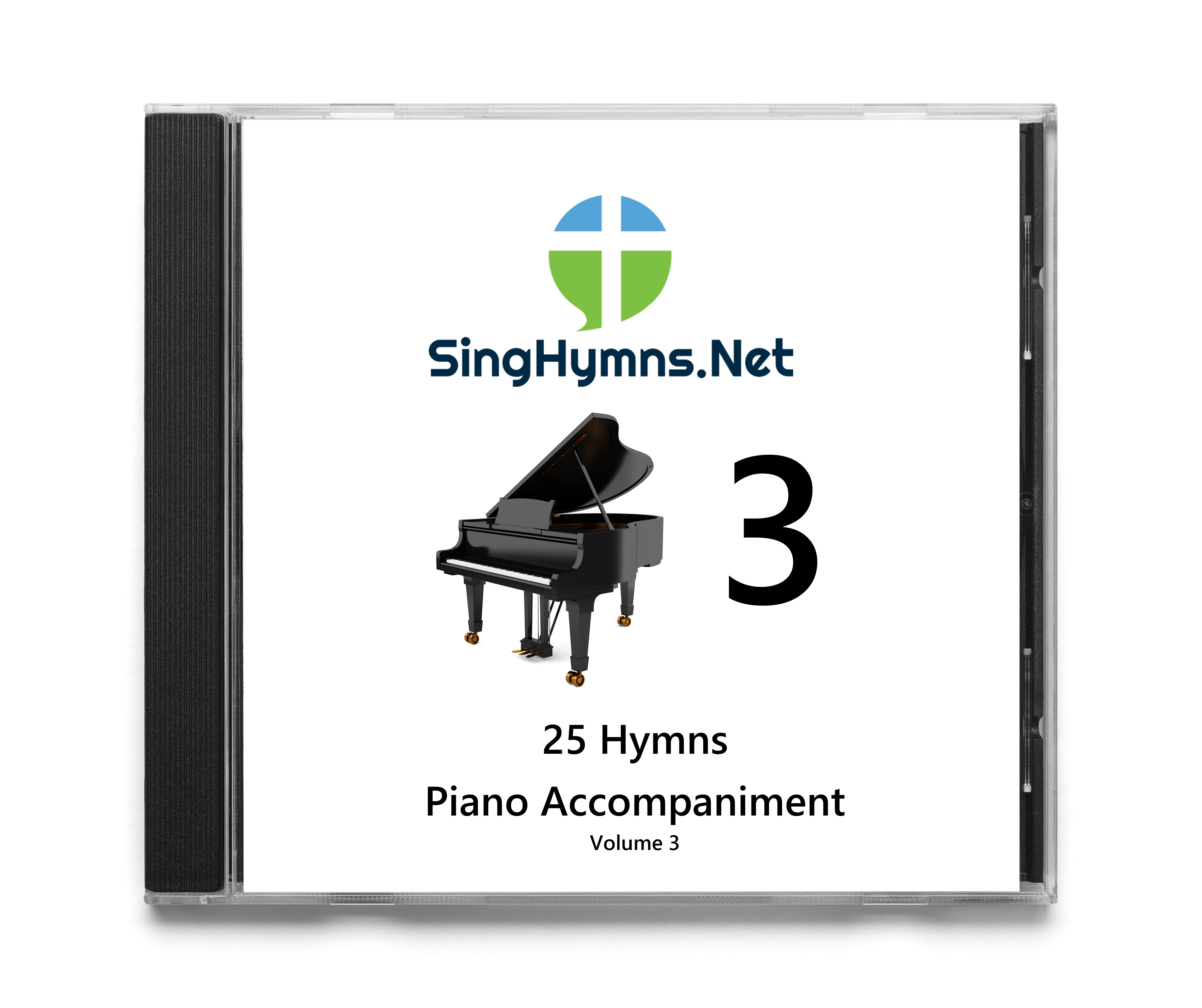 25 Hymns Volume 3 2018 Ed. Piano CD
A Change to Keep I Have
, 4 VersesHigh Key C
(SAMPLE)
Low Key G
(SAMPLE)
Abide With Me
, 4Eb
(SAMPLE)
Bb(
SAMPLE
)
All Hail the Power
, 4G
(
SAMPLE)
C
(SAMPLE)
All the Way My Savior Leads Me
, 3G
(SAMPLE)
C
(SAMPLE)
Be Thou My Vision
, 5Eb
(SAMPLE)
Bb
(SAMPLE)
Breathe On Me Breath of God
, 4F
(SAMPLE)
C
(SAMPLE)
By the Sea of Crystal
, 4G(
SAMPLE)
D
(SAMPLE)
Come Thou Long Expected Jesus
, 2F
(SAMPLE)
C
(SAMPLE)
Give Me Jesus
, 3A
(SAMPLE)
F
(SAMPLE)
Go Ye Into All the World
, 4Ab
(SAMPLE)
Eb(
SAMPLE)
He Leadeth Me
, 4Db
(SAMPLE)
Ab(
SAMPLE)
He Lives
, 3Bb
(SAMPLE)
F
(SAMPLE
)
I Know Whom I Have Believed
, 4Eb
(SAMPLE)
Bb
(SAMPLE)
Oh Sacred Head Now Wounded
, 3C
(SAMPLE)
G
(SAMPLE)
Rock of Ages
, 3Bb
SAMPLE)
F
(SAMPLE)
Softly and Tenderly
, 3G
(SAMPLE)
D
(SAMPLE)
Sweet Hour of Prayer
, 3C
(SAMPLE)
G
(SAMPLE)
Take Time to Be Holy
, 3F
(SAMPLE)
C
(SAMPLE)
Tell Me the Old Old Story
, 3C
(SAMPLE)
G
(SAMPLE)
The Master Has Come
, 3F
(SAMPLE)
C
(SAMPLE)
Tis So Sweet to Trust in Jesus
, 4G
(SAMPLE)
D
(SAMPLE)
Trust and Obey
, 4F
(SAMPLE)
C
(SAMPLE)
We Gather Together
, 3D
(SAMPLE)
A
(SAMPLE)
Whiter Than Snow
, 4Ab
(SAMPLE)
Eb
(SAMPLE)
Wonderful Words of Life
, 3E
(SAMPLE)
B(
SAMPLE)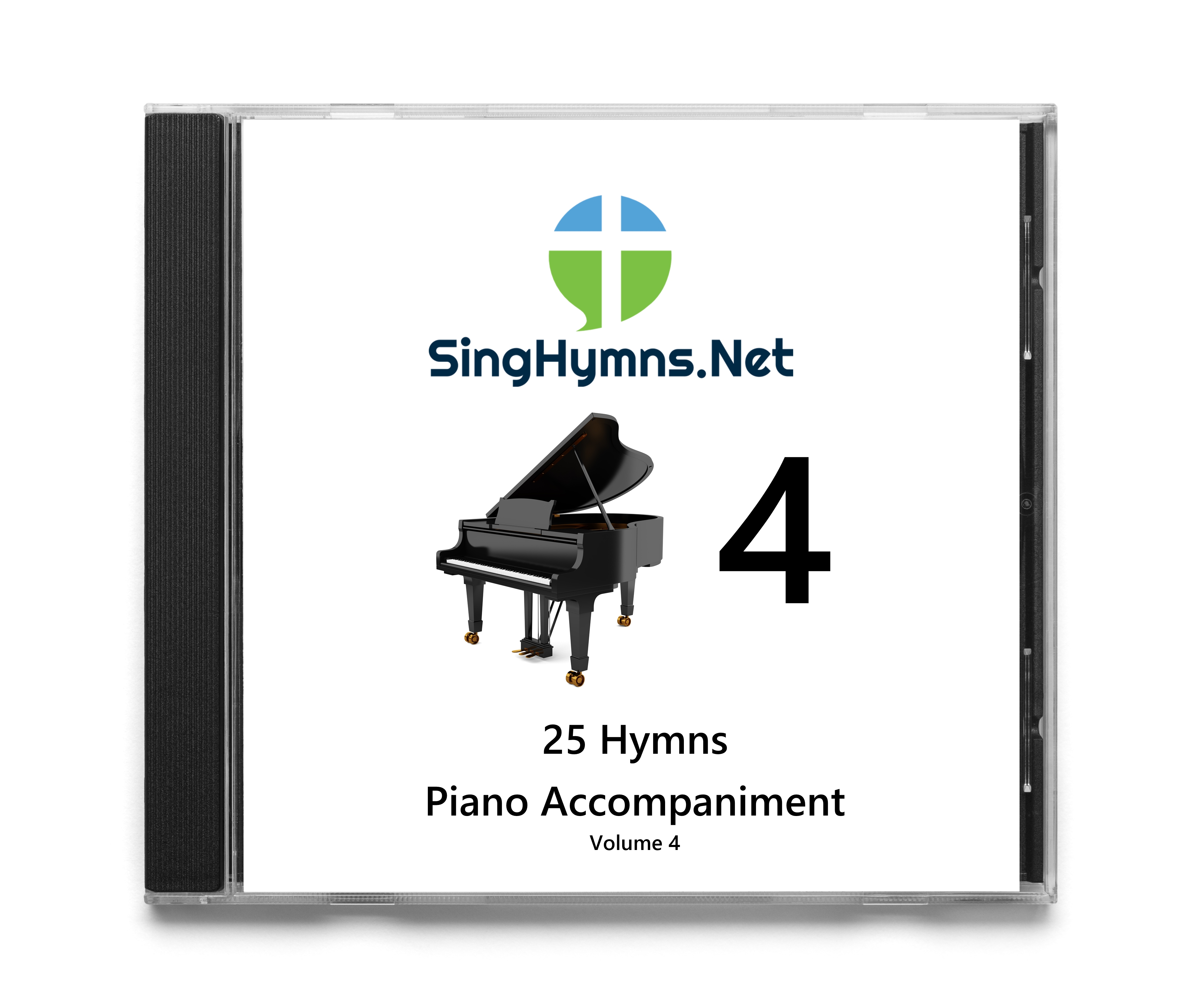 25 Hymns Volume 4 2018 Ed. Piano CD
At Calvary
, 4 VersesHigh Key C
(SAMPLE)
Low Key G
(SAMPLE
)
Beneath the Cross of Jesus
, 3Db
(SAMPLE)
Ab
(SAMPLE)
Break Thou the Bread of Life
, 4D
(SAMPLE)
A
(SAMPLE)
Bringing in the Sheaves
, 3Bb
(SAMPLE)
F
(SAMPLE)
Christ For the World We Sing
, 4F
(SAMPLE)
C
(SAMPLE)
Faith Is the Victory
, 4F
(SAMPLE)
C
(SAMPLE)
God Be With You 'Till We Meet Again
, 4C
(SAMPLE)
G
(SAMPLE)
He Lifted Me
, 4F
(SAMPLE)
C
(SAMPLE)
Holy Holy Holy
, 4D
(SAMPLE)
A
(SAMPLE)
I Love to Tell the Story
, 4G
(SAMPLE)
D
(SAMPLE)
It Is Well With My Soul
, 4C
(SAMPLE)
G
(SAMPLE)
Jesus Shall Reign
, 4D
(SAMPLE)
A
(SAMPLE)
Oh For a Thousand Tongues
, 5Ab
(SAMPLE)
Eb
(SAMPLE)
Oh Worship the King
, 4Ab
(SAMPLE)
Eb
(SAMPLE)
Power In the Blood
, 4Bb
(SAMPLE)
F
(SAMPLE)
Shall We Gather At the River
, 4D
(SAMPLE)
A
(SAMPLE)
Spirit of God Descend Upon My Heart
, 4C
(SAMPLE)
G
(SAMPLE)
Surely Goodness and Mercy
, 3Eb
(SAMPLE)
Bb
(SAMPLE)
The Family of God
, 2F
(SAMPLE)
C
(SAMPLE)
There Is a Fountain
, 5Bb
(SAMPLE)
F
(SAMPLE)
To God Be the Glory
, 3Ab
(SAMPLE)
Eb
(SAMPLE)
Trusting Jesus
, 4F
(SAMPLE)
C
(SAMPLE)
When All the Mercies
, 4G
(SAMPLE)
D
(SAMPLE)
Will Jesus Find Us Watching
, 4A
(SAMPLE)
E
(SAMPLE)
Wounded For Me
, 5Eb
(SAMPLE)
Bb
(SAMPLE)